---
The Heritage Foundation has released a truly disturbing report that analyzes the strength of the U.S. military, which is being systematically dismantled by Democrat presidents like Obama (who was actually elected) and Biden (who was not elected). That report, linked below, reveals that the entire United States military has just 300 land missiles remaining in its entire arsenal.
This number should set off alarm bells in the minds of anyone paying attention.
That's compared to over 12,000 missiles owned by Russia and 14,000 in China's military.
See the full report here: Heritage Foundation Releases 2023 Index of U.S. Military Strength, Gives U.S. Military First-Ever 'Weak' Overall Rating
From that press release:
For the first time, The Heritage Foundation's Index of U.S. Military Strength finds that as currently postured, the U.S. military is rated "weak" and at significant risk of not being able to meet the demands of a single major regional conflict while attending to various presence and engagement activities.
That means the US military is incapable of handling even a single "regional conflict," much less a two-front world war (which is what we will likely soon be facing against Russia and China).
"…[R]eadiness and capacity issues across the force, particularly in the Air Force and Navy, have become so significant that the military's ability to fulfill its primary mission is in jeopardy," warns the report, which makes no reference to the disturbing fact that top military generals and personnel are being replaced with "woketard" leftists who express extreme hatred toward the United States and want to usher in a new era of Chinese-style communism.
The Heritage Foundation President, Dr. Kevin Roberts, lashed out at Biden for further weakening the US military, saying:
Biden's reckless, naive foreign policy continues to embolden our adversaries, while his domestic agenda undermines the strength of our military. There is no question that under his failed leadership the strength of our military has hit an all-time low.
Just 300 land missiles remaining… America has just about run out of military ammo
As the UK Daily Mail is now reporting, "America currently possesses just 300 land based missiles, while China boasts more than 14,000, and Russian more than 12,000."
This means that in a land war, the US military will run out of missiles in mere hours or days, while China and Russia can continue to launch missiles for many months (or years).
Making matters even worse, as Newstarget has reported, "U.S. military running out of key munitions including anti-tank Javelins by gifting them to Ukraine as production capacity falls."
In essence, the US has emptied its military munitions vaults and sent everything to Ukraine where it's vanishing.
The Ukraine war fiasco has created a giant "weapons destruction black hole" where treasonous Pentagon leaders and corrupt politicians can dispose of U.S. artillery pieces, ammunition, anti-tank weapons, rocket systems and more, simply by claiming they are being "sent to Ukraine" to fight Russia. In truth, there is zero accountability on these weapons and munitions, and they are vanishing into a giant black hole (or being sold off to Iran and other countries on the black market).
The net effect is to get America's military readiness just as China and Russia are gearing up for World War III.
China plans to attack, occupy and destroy the United States by overrunning the West Coast
As we have exhaustively covered in articles and expert interviews (with people like JR Nyquist and Dave Hodges), China continues to work toward its goal of launching a kinetic attack against the United States, landing troops and invading with millions of soldiers. Their goal is to exterminate all Americans and seize America's rich croplands which can help provide food for the Chinese empire (which cannot currently grow enough food to feed its own people).
In order to achieve this, China will first blind the US military with GPS jamming and anti-satellite weapons systems, perhaps combined with an EMP strike over North America. This will thrust most of the country into grid down chaos while disabling military comms and navigation capabilities.
Notably, GPS jamming was recently carried out in Central Texas near Fort Hood, where GPS signals went dead and commercial air traffic had to take special actions to maintain course headings. As NaturalNews reports:
Mysterious troubles in the Lone Star State are forcing airports to re-route aircraft due to unreliable GPS signals that are no longer functioning correctly. One of the worst-hit areas for GPS interference is an area abutting Fort Hood, America's third-largest military base.
The following map from GPSjam.org shows the affected areas in Central Texas on October 18th: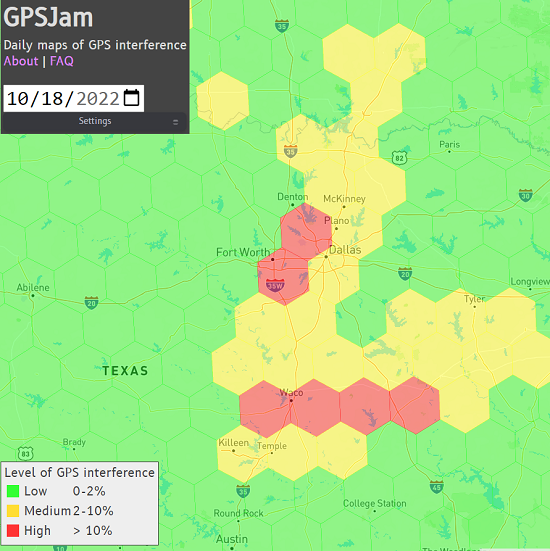 A military source has told me this GPS jamming was caused by China and carried out as a test for its "blinding capabilities" in anticipation of engaging US forces on US soil.
China, you see, has its own GPS system that will stay operational, even as China blinds the US Air Force GPS system that's used by the US military. China's homegrown GPS system is called "Beidou" and it was launched in June of 2020. Russia also has its own GPS system called GLONASS. Both Beidou and GLONASS can be used to guide precision missiles, including hypersonic missiles.
Taking down the US Air Force GPS would, of course, allow China and Russia to maintain their own systems while blinding the US military on US soil.
Obama transferred drone technology to Iran to empower America's enemies
Not only did Obama send nuclear material to Iran — and tens of billions of dollars in laundered money flown in on military cargo planes — he also arranged for a US military drone to be captured by Iran so that all the technology powering the drone could be reverse engineered by Iranian military experts. See also, "Trump confirms that Obama's schemes PAID for the missiles fired by Iran against U.S. targets."
Now, the so-called "Kamikaze drones" being used by Russia against Ukraine are actually made in Iran using U.S. technology and funding that was provided during the Obama administration.
Obama, astonishingly, is still committing treason against the United States and getting US soldiers (and allied soldiers) killed on the battlefield.
Joe Biden is, of course, an Obama puppet who's carrying out Obama's third term. That's why it's no surprise that even Europol has issued a public warning about how US weapons being sent to Ukraine will actually end up being sold to Iran or various terrorist organizations that will target the military personnel of the USA and NATO.
While Obama was arming Iran with drone technology and funding for nuclear weapons, he was also dismantling the US military by firing all true patriots and conservatives, purging the ranks of anyone loyal to the US Constitution. The result is a weakened, pathetic, woketard class of military leaders run by cross-dressing trannies and traitors. This is all by design, of course, because it's all about preparing America to be completely defenseless when it is invaded by China.
China and Russia are likely to coordinate their attacks for maximum impact
Based on intel from our sources, China and Russia are very likely to coordinate their attacks, striking the continental USA along its West Coast (via China's military) while Russia launches nuclear missiles that strike the East Coast (Wash. D.C., NYC, Norfolk, etc.) and take out major European cities such as London and Berlin. Before this nuclear assault is unleashed, America will be blinded with GPS jamming and the strong likelihood of an EMP weapon detonated at altitude.
Once America is blinded, the first wave of short-range nuclear missiles will be launched from Chinese merchant ships. These missiles will strike California National Guard bases and other military infrastructure within range. Chinese troops will then land on the beaches and seize the ports. Once that is accomplished, they will offload Chinese military tanks, armored carriers, artillery, mobile rocket launchers and other equipment onto their new beach head. From there, they will seek to exterminate every civilian in sight, working their way eastward with the goal of seizing all of the continental United States and exterminating every last living American. (This is genocide on a huge scale.)
According to our sources, Gov. Newsom is conspiring with China to enable this to success, likely by ordering military units in California to stand down. Newsom has been paid off with billions of dollars in laundered money, some of which was sent to China under the excuse of PPE (covid masks) purchases. This money was laundered by China and sent back to Newsom's control as a massive payoff. Similarly, high-level Pentagon officials — who are already bribed and compromised by China — will order the Navy to stand down so that China's military merchant ships arrive at America's shores fully intact.
Following this, America will find itself in a guerilla war scenario, fighting for its existence on planet Earth. China will be able to flood America with literally millions of Chinese troops in an effort to overwhelm all civilian defenses.
Gov. Newsom has purposely outlawed fully-functional AR-15s in order to make sure Californians can't effectively defend the state against China's invasion. It's hard to fight a war with low-capacity magazines and funky rifle stocks that are made to be "California compliant." (Note: See KaliKey.com for a clever solution that allows you to keep your AR-15 while being California compliant. KaliKey is a sponsor of Brighteon.)
All the anti-gun laws in California, Oregon and Washington were actually designed to make the West Coast vulnerable to invasion, making sure Americans can't defend their homeland against enemy forces. Note, too, that Washington is still running covid quarantine camps, which will no doubt be used to house Americans who resist the communist invasion, since Washington's democrat leaders are also all-in with communist China's takeover of America. (As is Trudeau in Canada, of course.)
Little do these leftists realize they, too, will be quickly exterminated by the communist Chinese once they have outlived their usefulness. The communist Chinese have no intention to leave any American left alive… not even those who foolishly think communism is awesome.
They are about to find out the hard way that communist China doesn't need American traitors.
To learn more about all this (and many other topics), listen to today's Situation Update podcast via Brighteon.com:
– USA is down to just 300 land missiles in the entire military inventory
– Why the US military will stand down and refuse to defend America when China attacks
– Heritage Foundation report finds US military now rated "weak"
– US military can't even handle a single regional conflict now
– China and Russia will likely COORDINATE their attacks on the USA and NATO
– Texas AG says we must prosecute obscene drag queens that sexualize children
– Russia's drones actually made by IRAN using tech transferred by OBAMA
– BBC is readying "secret scripts" to try to explain to people why the power grid is down
– The public is being kept in the dark about the coming energy apocalypse
– CDC declares biowarfare on America's children, adding covid jabs to immunization schedule
– Biden uses up more strategic oil supply, leaving nothing for emergencies
– Used car prices begin falling dramatically
– How to negotiate with car dealers to avoid getting ripped off (hilarious)
– Interview with Dr. John Diamond
Brighteon: Brighteon.com/940ebc60-793e-4571-8ffa-97ca8da67063
Bitchute: Bitchute.com/video/m8eko4rP0SCj/
Rumble: Rumble.com/v1owjdl-situation-update-102022-americas-military-being-gutted-to-weaken-conus….html
Banned.Video: Banned.video/watch?id=635165ca45c0ca16e048dae4
Discover more interviews and podcasts each day at:
https://www.brighteon.com/channels/HRreport
Follow me on:
Brighteon.social: Brighteon.social/@HealthRanger (my breaking news gets posted here first)
Telegram: t.me/RealHealthRanger (breaking news is posted here second)
Banned.video: Banned.video/channel/mike-adams
Truth Social: https://truthsocial.com/@healthranger
Gettr: GETTR.com/user/healthranger
Parler: Parler.com/user/HealthRanger
Rumble: Rumble.com/c/HealthRangerReport
BitChute: Bitchute.com/channel/9EB8glubb0Ns/
Clouthub: app.clouthub.com/#/users/u/naturalnews/posts
Join the free NaturalNews.com email newsletter to stay alerted about breaking news each day.
Download my current audio books — including Ghost World, Survival Nutrition, The Global Reset Survival Guide and The Contagious Mind — at:
https://Audiobooks.NaturalNews.com/
Download my new audio book, "Resilient Prepping" at ResilientPrepping.com – it teaches you how to survive the total collapse of civilization and the loss of both the power grid and combustion engines.
Submit a correction >>