---
Most sane people the world over reject neo-Nazism in all forms and certainly would not lift a finger to fight for a country that harbors and encourages neo-Nazism.
One such country that does permit the existence of neo-Nazism is Ukraine, oddly enough, which is partly why Russian President Vladimir Putin chose to invade rather than negotiate with Ukrainian leaders. Ukraine, of course, came under attack during World War II and was largely overrun by Nazi Germany, so it is alarming to see the country tolerate such a hateful ideology.
In any event, the global left claims to also oppose Nazi ideology. In fact, leftists frequently accuse (falsely) their right-leaning political opponents of being "Nazis" (though Hitler clearly was a left-wing, anti-liberty authoritarian). And yet, leftists have flocked to Ukraine to fight on behalf of that country.
But many are meeting an untimely demise, thanks in no small part to their stupidity, as Newspunch reports this week:
As if traveling to a warzone to engage in combat for an army riddled with Neo-Nazis wasn't foolish enough, the leftists proved themselves worthy of the 2022 Darwin Award by posting clout-chasing selfies on the internet for the whole world to see – including the Russian military.
Ukraine President Zelenskyy announced last week that 16,000 foreign fighters have been recruited to serve in Ukraine's Foreign Legion, however, given recent events it appears the foreign fighters may represent a liability rather than an asset for Ukraine.
These foreign fighters are breaking a key operational security (OPSEC) rule that the U.S. military and most other professional militaries around the world follow: Don't post incriminating or revealing information on social media because the enemy is watching.
During World Wars I and II, there was a saying: "Loose lips sink ships" — the idea being that revealing too much information publicly about U.S. and Allied troop and force movements would be used by the Axis to attack and kill our personnel.
The same principle applies today to social media: Don't reveal anything about who and where you are.
Violating that rule may have caused nearly 200 foreign fighters to lose their lives in a recent attack by Russian forces on a Ukrainian training base where many of the foreign fighters were stationed.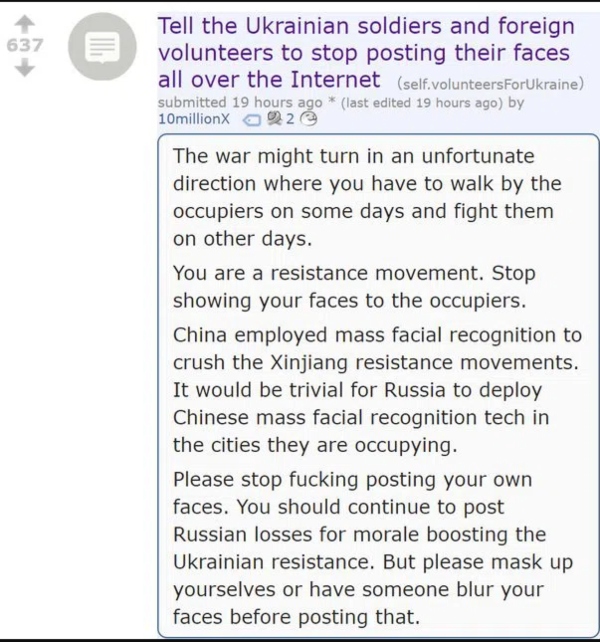 According to a Reddit post titled, "Tell the Ukrainian soldiers and foreign volunteers to stop posting their face all over the Internet":
The war might turn in an unfortunate direction where you have to walk by the occupiers on some days and fight them on other days. 
You are a resistance movement. Stop showing your faces to the occupiers.
China employed mass facial recognition to crush the Xinjiang resistance movements. It would be trivial for Russia to deploy Chinese mass facial recognition tech in the cities they are occupying.
Please stop f**king posting your own faces. You should continue to post Russian losses for morale boosting the Ukrainian resistance. But please mask up yourselves or have someone blur your faces before posting that.
Indeed, Russia is targeting these left-wing foreign fighters because President Vladimir Putin has declared that everyone helping Ukraine is fair game.
"The destruction of foreign mercenaries who arrived on the territory of Ukraine will continue," said Russian Defense Ministry representative Major General Igor Konashenkov.
"On the morning of March 13, high-precision long-range weapons attacked the training centers of the Ukrainian armed forces in the village of Starichi and at the Yavorovsky military training ground," Konashenkov said in a briefing, according to RIA.
"As a result of the strike, up to 180 foreign mercenaries and a large consignment of foreign weapons were destroyed," Konashenkov continued, Russian newswire Interfax reported.
"At these facilities, the Kyiv regime deployed: A point for the training and combat coordination of foreign mercenaries before being sent to the areas of hostilities against Russian military personnel, as well as a storage base for weapons and military equipment coming from foreign countries."
Only a leftist would see this deadly conflict like a video game.
Sources include:
Submit a correction >>